WHY BUY THAT WHEN YOU CAN HAVE THIS?
so I love steve madden heels and recently while I was in the middle of getting my nails done. This woman came into the shop with the cutest sandals they were light pink had a bow and even little diamond studs I love me some bling! lol well I asked where she got them from... I mean isn't that's what you suppose to do? For sometime I used to get annoyed with people asking me questions about my hair,clothes, accessories even my weave! I use to feel like no one helped me so why should I help you it took some time to get out of that mindframe now I'm willing to give the link, address hell I'll go shopping with you, guess you can say it was a faze smh. well I actually purchased the steve madden sandals on sale for $69 which at the time i thought was the greatest......time would prove differently!
now as you can see they are cute........can be added with a nice maxi or a pair of nice pants they have oh so many possibilities.... like I said I did in deed purchase the shoe now listen to this foolishness. I was shopping for a crop top at Rainbow and came across This sandals now tell me they don't look exactly like the steve maddens!!!!! I was genuinely upset because $69 for some is a bit much especially if you can find the SAME thing for a much cheaper price. They were available in white, black, and pink I GOT ALL THREE! and thank goodness for receipts cause I took them things right back to steve madden with a smile on face. The rainbow sandals cost $16.99 +tax. I'm not big on sandals so to get these will the same style at a cheaper price was a no brainer.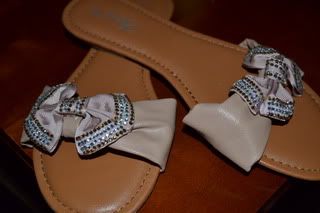 manufacutared by roque I wore these all day the cushioning is great and my feet didn't hurt at all.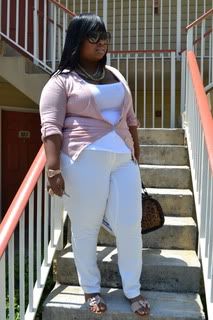 decided on this outfit for lunch and a lil shoppin with my mother and lil bro....miami is hot as hell!
shirt; old navy $10
pants: micahel kors $100+
cardigan: michael kors 100+
chain: betsey johnson reg; $135 ( on clearance at tj maxx $20)
shoes: rainbow $16.99
shades: dior vintage #125 $200+
oh before I forget another turn off about steve madden was the size chart their sandals run in european sizes and no one in the store felt a need to divulge that information. lucky for mr steve I can't turn down a fabulous heel.