Well I know just how hard finding a statment dress can be for a plus size girl. Most of my outfits are found after hours of in store and online searching. I even get frustrtate at moments because clothing for smaller women are so easy to find which upsets me when I see some of them dressed the way they do. that's another blog in itself. after several inquiries threw my facebook page and my blog I decided to do a round of online shopping and basically give you some of the tops sites I visit for dresses and normal day wear as well. I have ordered from every website when ordering online It is always good to look and see what the fabric is made out of and read any reviews because some items may not be true to fit and in some cases smaller or tighter. SO HERE GOES!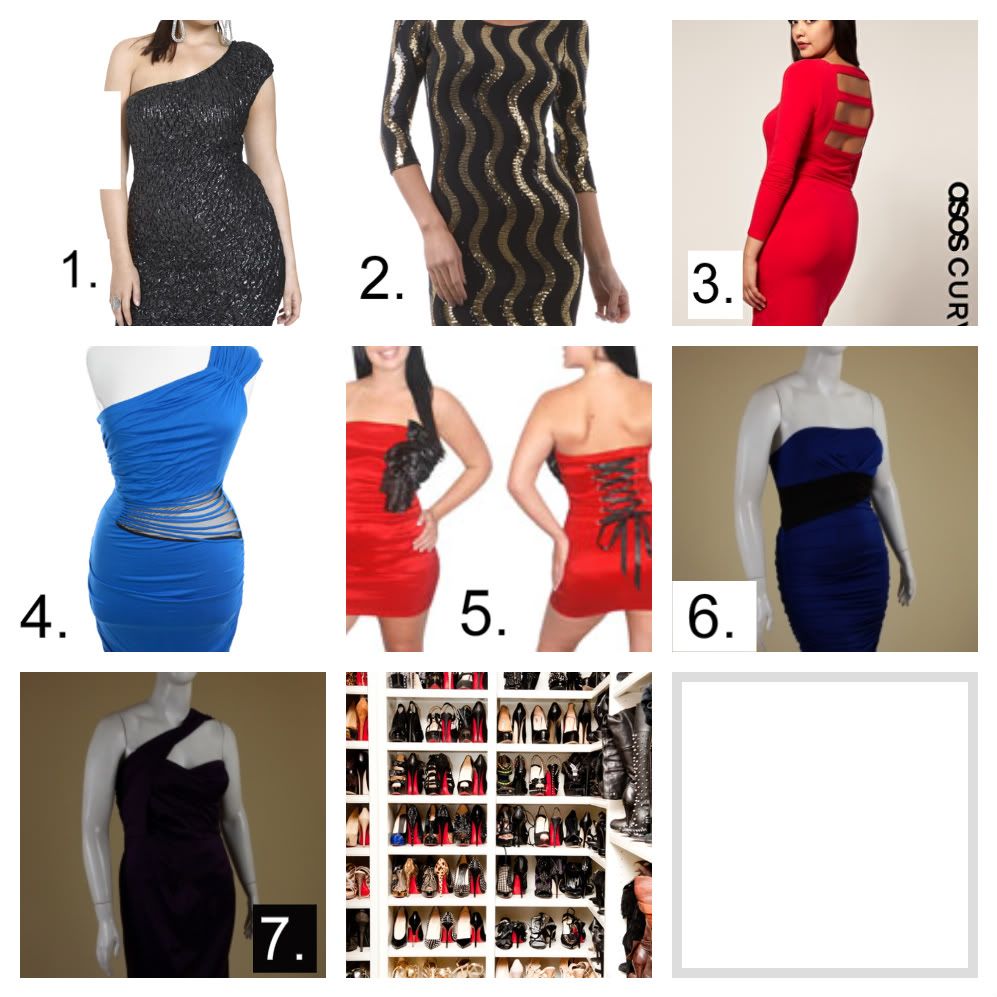 DRESS ONE: I LOVE THIS DRESS ALL THINGS THAT GLITTER HAS A SPECIAL PLACE IN MY HEART! www.fashiontofigure.com
DRESS TWO: I ACTUALLY ALREADY OWN THIS DRESS AND IT'S RUNS FAIRLY SMALL SO 18+ SHOULD DEFINETLY GO FOR THE LARGEST SIZE POSSIBLE. www.fushialove.com
DRESS THREE: THIS IS MY FAVORITE AT THE MOMENT AND IT ALSO COMES IN BLACK AND ROYAL BLUE WHICH IS HOT AND THE LITTLE PEEKABOO IN THE BACK IS A ADDED PLUS. BTW I'M A SUCKER FOR LONG SLEEVE DRESSES. www.asos.com
DRESS FOUR: FOR THE LADIES THAT AREN'T AFRAID TO SHOW A LITTLE SKIN. NOT SURE ABOUT THE MESH PIECE IN THE MIDDLE FOR MY SPANX GIRLS IT WOULD COVER JUST FINE. www.plussizefix.com
DRESS FIVE: IS SEXY AND STRAPLESS..... www.greatglam.com
DRESS SIX AND SEVEN: THESE DRESSES ARE BY MY ALLLLLLLLLL TIME FAVORITE SITE. I LOVE LOVE LOVE THESE DRESSES THEIR SEXY AND SIMPLE. www.sizestofit.com
NOW I HAVE SHARED SOME OF THE PLACES I SHOP ONLINE AND HOPEFULLY THESE SELECTIONS GIVE YOU AN INSIGHT TO A SEXY FREAKEM DRESS. THE LAST PHOTO IS TRULY ANYONES WOMENS DESIRE. I WAS DROOLING OUT OF MY MOUTH LOOKING THIS PIC. I WAS UNABLE TO FIND ANYTHING A F21 WHICH IS A SHOCKER THEY ARE REALLY VENTURING AWAY FROM SEXY CASUAL DRESSY AND MORE INTO A TEEN LINE (MY OPINON). WO WHAT DO YOU THINK?