I have been trying to really get into other styles aside from dresses. I love dresses not to fond of pants it's something about them that just doesn't feel very feminie. so while hitting up a local poetry cafe in miami I took my chance and with a crowd that was unfamiliar with my face just incase it didn't come out as I liked. Oh and change of hair color I am currently wearing a bangs (jet black). It's amazing how much a hairstyle can change your entire attire. one of my favorite site
dorothy perkins
which I love love love was having a sale. now the pricing is in euros with a check of currency coverter you can easily figure it out to the last cent. well they had sale! I was able to get the vest and shirt for $45 now vest are hard to come by and light blue one for that fact is rare. I couldn't type the buy now button fast enough. here is the out come......hope you like!!!!!
S/N THOSE EARRINGS ARE FROM THE SAME COMPANY THAT MAKES ALL THE LADIES EARRINGS OF BASKETBALL WIVES. THEIR ARE CALLED AMBURR ALERTS I LOVE THEM JUST RECEIVED ANOTHER GIFTED PAIR LOOK FORWARD TO THAT POST CAUSE I LOVE THOSE EARRINGS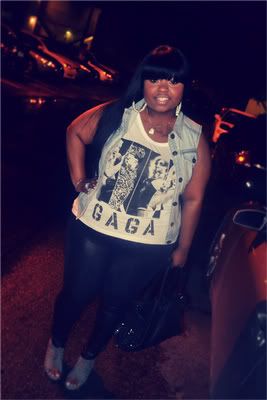 TIGHTS: FOREVER 21 SHOES: STEVE MADDEN BAG:MY SHOP JACKET AND VEST: DOROTHY PERKINS EARRINGS: GIFTED FROM I <3 POPPARAZZI.