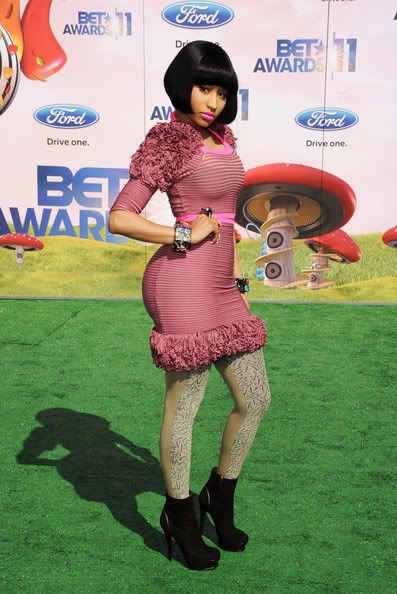 Nicki Minaj 2011 BET awards
Looks like she got dressed in the dark if you ask me.....I love her but I would love her more If she did something diffrent.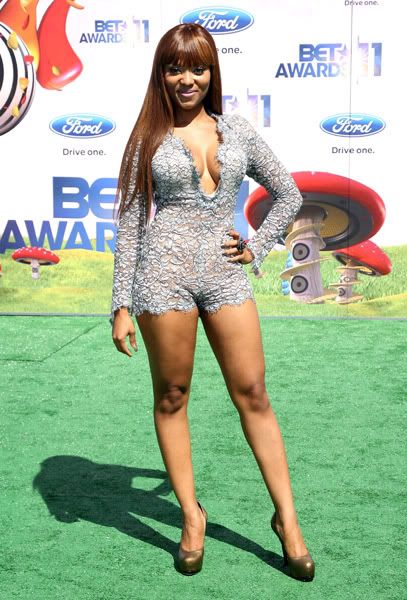 teairra looks like she is working the strip..........I mean the wig look cheap and as much as I love lace this was a bit much.
I was unable to catch the 2011 BET awards but from the looks of it. The show could have easily been renamed to the Circus awards. Fashion has several was of expressing it self and I'm not saying that you can't BUT there is a fine line between FASHION and FUCKERY. I look at some of the fashion shows and in my opinon you are not suppose to take EVERYTHING from a line. I adore Alexander Mc Queen colors, and definetly his shoes his craftmanship is great. Would I wear some of his shoes? no I leave those kinds of routines to Lady Gaga and Posh Spice. Some fashions are made to be adored not re invented. I can remember when nicki rocked the two different shades of hair on trey songz "bottoms up". I can't tell you how many young black girls we're seen rocking that do....and let's not even get on young men tattooing their face like lil wayne, the game, rick ross, baby from cash money and the list goes on and on and on.